Visions, Impressions of Various Oregon Coast Displays
Published 07/02/2011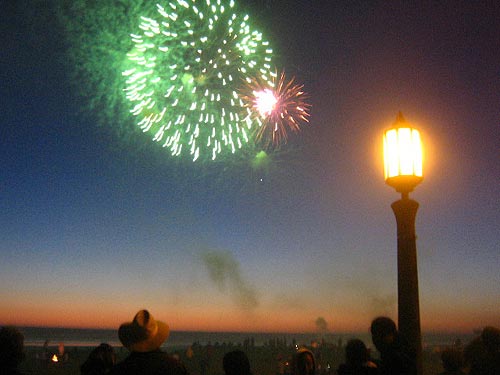 (Oregon Coast) – If you've never been to any of the firework displays along the Oregon coast, you've missed more than simply a wildly different and intense day at the beach. They have a whole new kind of energy and party vibe all their own, along with the numerous calming benefits of simply being by the Pacific (above: Seaside's display).
Here's a bit about what you're missing:
One thing that's common about these displays is the huge number of people firing off their own, usually the aerial kinds that are illegal in this state. It's not legal, but presumably there are so many people among the thousands gathered at any particular beach spot that authorities can't keep up with enforcement. Full list of celebrations here: Fourth of July Guide to Oregon Coast, 2011
Illegal or not, it winds up an impressive display in itself. More often than not, it's hard to tell when the official fireworks display goes off because there are so many civilians out there with their own mortars and rockets creating red glare, and many of them are almost as large as the official stuff.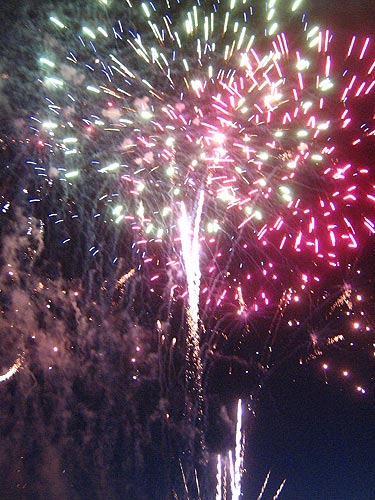 Seaside's finale
Consequently, these shows are not for dogs or other pets.
Also, each town holds a beach cleanup the following day, so the beaches can stay Oregon pristine, after the masses have left many of their shells behind.
Seaside's fireworks may be the highest energy you'll find around – largely because in order to see them you essentially have to become part of the huge throngs, which resonate with excitement over the aerial proceedings. Somewhere around 10,000 people or more are crammed along the Promenade, and at the southern and northern edges of the town's beaches.
Sometimes, boats linger just offshore, shooting off their own – which adds to the spectacle.
In Cannon Beach, there are no firework displays because of the bird refuge atop Haystack Rock.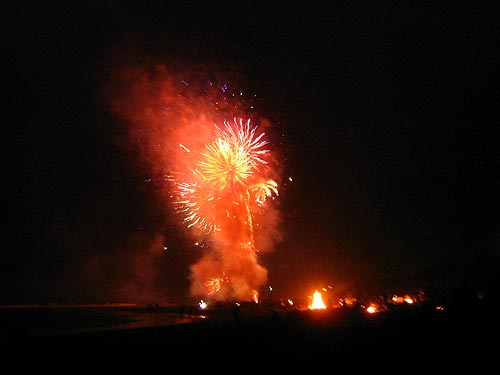 Rockaway's display
Manzanita's display is impressive enough given the small size of the town. Some people gather on top of Neahkahnie Mountain so they can witness the fireworks of Seaside, Manzanita and Rockaway Beach simultaneously. Others find Saddle Mountain, in the coast range, even better for this, as they can also see Astoria's from here.
Officials in Manzanita are pretty good about clamping down on individual fireworks on these beaches.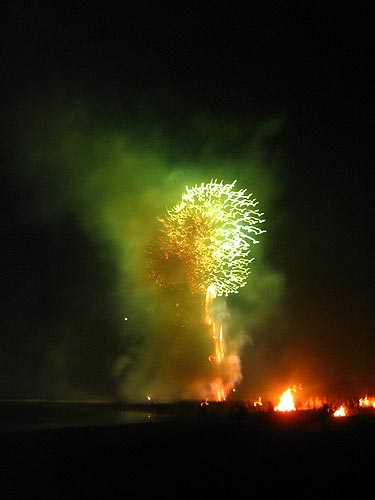 Rockaway Beach
Rockaway Beach has a massive display – and plenty of room for it at as well. With around seven miles of beaches, you'll find copious spots to park your picnic blanket and check out the revelry. The individual displays here are also incredible.
Pacific City holds theirs the day before or after the Fourth, depending on the year. The explosions briefly light up Cape Kiwanda in engaging ways and with stark shadows. Cars can gather on the beach in some spots to watch.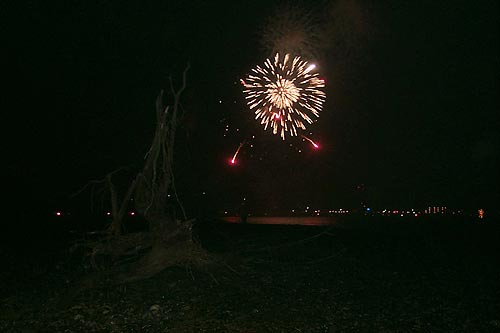 Lincoln City
Lincoln City has a monster of a celebration, involving a long, steady show of huge explosions and thousands upon thousands gathered around Siletz Bay, Salishan Spit and the southern beaches.
The personal fireworks of the public create a huge (and stinky) fog bank on the bay, which adds to the mysterious sights. Sometimes, a small boat will emerge from that fog – looking quite cinematic. Then, the fireworks themselves light up the beach with vibrant colors and sharp, sudden shadows. Giant chunks of driftwood get illuminated with intensely dramatic effect.
Sometimes, personal watercraft are floating around the bay all lit up by lights as well in a kind of informal lighted boat parade.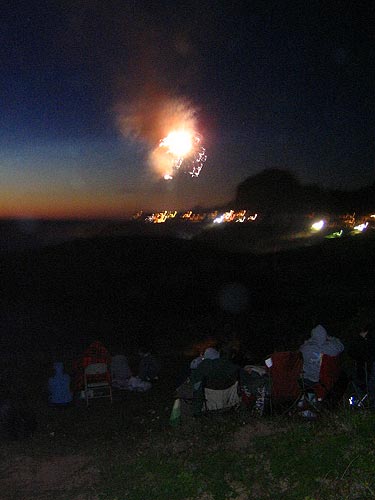 Depoe Bay (at right) usually holds its celebration on the third of July. With fireworks firing off from a somewhat distant cove just south of town, it's best to take the shuttles to this one. But there are a couple secret spots that offer dramatic views of this small but potent display.
One highlight is watching them explode in muted forms through murky fog cover, which happens periodically.
Newport has one of the more dramatic displays on the coast – certainly in terms of sound. The close knit coastal mountains and hills gathered around the bay provide a stunning means for the sound to bounce back and forth around the geography of the place, allowing for one explosion to create multiple booms.
Also, plenty of boats in the bay fire off their own fireworks or shoot off flares. Few things are more surreal and yet engaging than to be driving along the bridge and see flares and fireworks explode parallel to you.
More About Oregon Coast hotels, lodging.....
More About Oregon Coast Restaurants, Dining.....