Editorial: Beach Safety Standards Different Around Oregon Coast
Published 02/11/2011
By Andre Hagestedt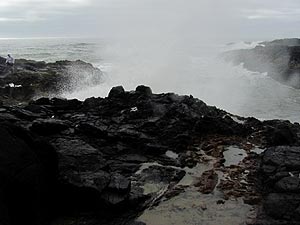 (Oregon Coast) – Every time a major death incident happens along the Oregon coast, a tsunami of media outlets cover not just the tragedy itself but also reminders of beach safety. This works great, as the awfulness of the incident is fresh in people's minds and helps cement the warnings into their brains.
The problem with the recent incident in Yachats – where two Eugene teens lost their lives to a large wave – is the usual standards of beach safety don't really apply in rocky ledge areas like Yachats. It is, in a sense, a place of "special needs" among coastal beaches and recreation areas.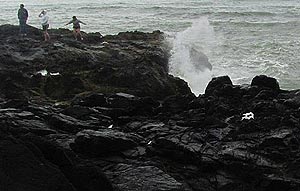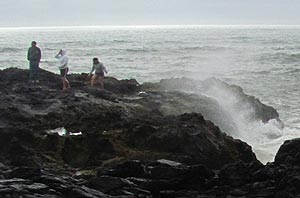 This sequence shows a group running from a huge wave at Devil's Churn, just south of Yachats
It's also a place where the dangers are a little more obvious – and they require only a bit of common sense. This incident, along with a similar incident last fall involving two Portlanders who died while on a jetty at Newport, illustrate not just the obvious dangers of such areas, but also show some beachgoers are not paying attention to the really obvious.
Part of the enormous tragedy of both the deaths of the Eugene teens and the Portland couple last year is that it was very easy to prevent. This may come across as unusually harsh to those grieving over the four, but these people should not have been on those spots in the first place – especially given the tidal conditions at that time. These are clearly dangerous, ledge-like areas just a few feet above a raging surf.
You simply don't go out there.
Another part of the problem here is the media's portrayal of beach safety in the area. Outlets all over Oregon gave the number one safety tip as "never turn your back on the tide." This is perfect for most beaches on our coastline, but it does not apply to Yachats, as well as spots like Depoe Bay, the Devil's Churn just south of Yachats and some parts of Pacific City's Cape Kiwanda and Indian Beach by Cannon Beach.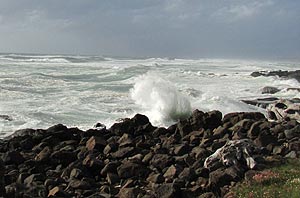 Dramatic but deadly: you need only take a quick glance at Yachats beaches doing things like this and know it's a bad idea to go out there.
At Yachats, especially at Smelt Sands – where the Eugene kids were – you stay on the trail, or at least far back from those waves, if you're going to tread on the black basalt. The big issue here is keeping your eye on these waves won't do you any good. They're all potentially huge sneaker waves here.
You absolutely can NOT see if a bigger wave is coming on these ledges.
As Robert Smith, from Oregon Parks and Recreation Department put it: "Assume nothing is 'high enough' and avoid exposed rocks, jetties and headlands especially during strong wave action (like during and after storms)."
Waves at Yachats and Devil's Churn come in high and powerful, and then smack against a hard, rocky area, which can amplify their energy when they splash upwards. It's not like a flat, sandy beach, where a gentle rise allows you to keep an eye on how far these waves are heading up the beach.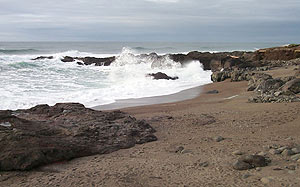 But then – and I'm going to harp on this uncomfortable fact again – this is plainly obvious at this area of Yachats. I saw the news footage of the rescue effort and could see an exceptionally unruly tide. Rocky ledges abound here, but also chunks of rock jut out into the ocean periodically, and anything within 20 feet of that ledge is a possible danger zone under those tidal conditions. Going anywhere within 20 feet of the edge is asking for serious trouble. Waves can and will smack you, at the very least soaking you, but possibly knocking you over, if not sweeping you away into the ocean entirely.
Again, that is obvious, if you're there and can see the place firsthand.
The same goes for those jetties, like at Newport, Warrenton or Nehalem Bay. State Parks urges you to not even go on them. It's not hard to see how bad an idea these jetties are when you see large waves crashing up against them. One of those probably has your name on it if you head out there.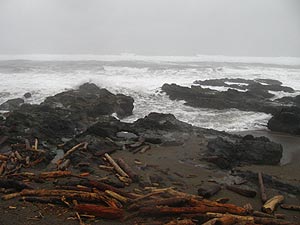 The danger of logs hitting you is also huge on these ledges
There is also the danger of debris getting tossed onto you, especially during heavy surf conditions at places like the Devil's Churn. At this spot, I see a lot of foolhardy behavior, and I'm really surprised more tragedies don't happen there. You don't go near that giant crevice if you see waves splash over the side at all – ANYWHERE on that structure.
Depoe Bay has a rocky shelf area just below the seawall, and there are signs posted to stay out. Is it perhaps time for Yachats and Oregon officials to examine if the rocky parts of Yachats should have restricted access? I believe it's certainly time for stricter controls on the jetties.
Unfortunately, like cell phone laws, the government sometimes has to step in and save people from themselves. Also unfortunately, the best you can do much of the time is post signs to tell people to stay off. You can't easily police these spots. Certainly, a fence near the rocky ledges of Yachats would not only be expensive to create and maintain (as they'd occasionally be ripped apart by the ocean), but they'd be ugly and ruin the view.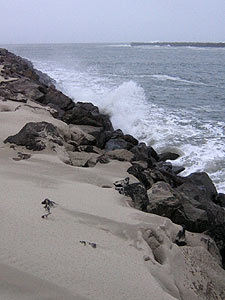 Jetties are seriously a bad idea for wandering around on.
So for now, until better methods for keeping people away are found, education is the only option. But even that makes me want to roll my eyeballs in Yachats' case, as these oceanic terrors are so much fun to watch – from afar – but their inherent dangers are very, very obvious.
A few rules of thumb for such special beaches:
- Always stay at least ten feet back from the edges, and do not go out on the areas jutting into the sea. 20 feet back is a better rule of thumb during even slightly unruly wave action. Anything more than slightly unruly waves – do not go onto these rocky areas at all and stay far above them.
- If conditions are fairly calm: Before heading down there, watch the waves a bit from afar. See how far they splash inward.
- Do not go within ten feet of the farthest splash line from the waves
- Stay off of jetties completely. There are numerous issues waiting to hurt you there.
More beach safety under other conditions and for regular beaches is here.
The beach at Yachats is one of the most incredible of all the Oregon coastline. It should be enjoyed safely, and can easily be. The 804 Trail there and the overlooks above the beaches are the best way to enjoy this awe-inspiring spot, and the best way to stay alive so you can return here for more memories.
More About Oregon Coast hotels, lodging.....
LATEST OREGON COAST NEWS STORIES
Back to Oregon Coast
Contact Advertise on BeachConnection.net