Oregon Coast Dining Moment: Arch Cape Inn and Retreat
Published 06/25/2011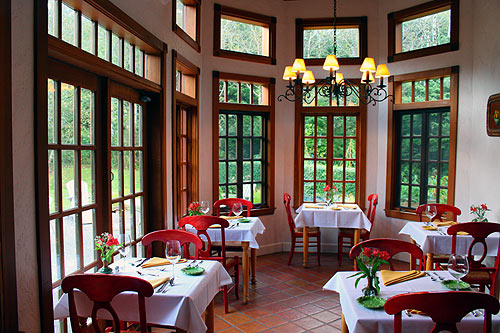 By Andre' Hagestedt
(Cannon Beach, Oregon) – It's true: you can have dinner in a real castle on the north Oregon coast.
Arch Cape Inn and Retreat is first a bed and breakfast with an amazing look, but it's also a kind of secretive restaurant: an unknown enclave of culinary wizardry, really. On the exterior, this little place in tiny Arch Cape – just south of Cannon Beach – is built to look like something between a castle and a French Alpine chateau. On the inside, it's more classic European mixed with Oregon coast coziness, containing a lot more than just a BnB.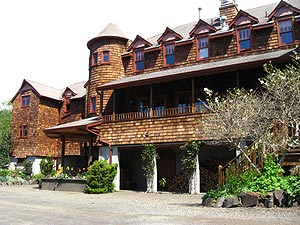 It's also a monster of an upscale restaurant – so off the beaten path it becomes rather exclusive.
In their first week of opening the restaurant a few years back, I had the pleasure of an invite to one of their first meals ever. I remember constantly rolling my eyes with sheer delight: it was undoubtedly one of the best meals I'd ever had in my life.
A subsequent recent visit did much to live up to those high standards as well.
I'm dining in their beautiful main "living room" area with co-owner Cynthia Malkowski, away from the actual usual dining room, which is no shirker in beauty by itself. Outside, past our creatively decorated table is the balcony and a small view of the ocean as the light fades away.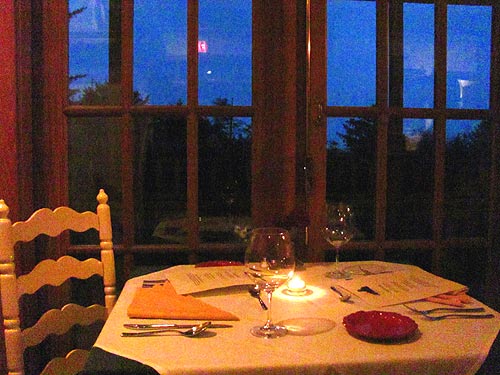 As Cynthia put it, the wine and a curious appetizer called an Amuse Bouche "starts this train leaving the station."
The Amuse Bouche is essentially French for something like "wake up the tongue," and Cynthia explains it's meant to literally wake up the palate. It's comprised of tiny servings of salmon, pickled onion, Thai hot sauce and chives all lumped together in a way that resembles an oyster shooter or one of those single bites of potato skin appetizers you get at larger chain restaurants. It's essentially a one-bite bit of food.
It hits you with a burst of flavors, although the salmon didn't hit me until a bit after the initial blast of varied spices. There was indeed something eye-popping about it: a lot of unexpected sensations bouncing around your mouth.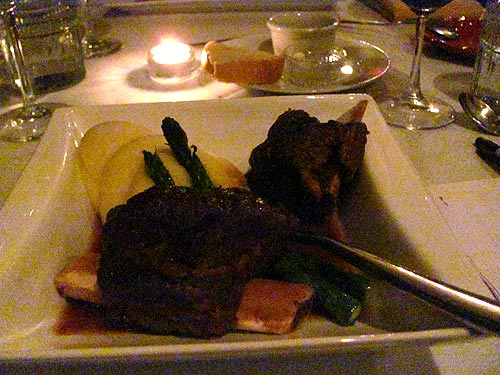 Next up was a carrot ginger soup – a fantasia of lighter flavors, to be sure. It was earthy and vibrant, all balanced by pristine sweetness that reminded me – of all crazy things – the homemade ice cream shop in nearby Seaside called Zinger's. Not that it was ice cream-like in any way, but I hold Zinger's in such high regard that this was the first thing that came to mind.
Meanwhile, we're going through Arch Cape Inn and Retreat's wine list a little bit, trying Oregon-centric wines like Adelsheim and Anne Amie. At one point I notice something astounding about these wines and how they go so well with the meal, especially with the soup.
We're utilizing a white wine at this point, and the sweetness of the wine meets the vanilla in the soup in a tantalizing way, and then the finish of both together is a kind of mini-explosion where the boldness of the white wine appears suddenly. In a culinary sense, it completes a thought in a most remarkable manner.
In other words: sipping the wine at the same time as munching on the soup was one of the more eye-rolling experiences I can remember with food.
Then came the braised beef, which was extremely soft, light in texture, a buttery kind of smooth and yet somewhat bold at the same time. Even better were the crispy, charred layers on the outer edges of this delight. The mashed potatoes were startling in flavor with the small bite of horseradish mixed in – somewhat ingenious.
The Prixe Fixe menu changes every night, of course, and it is $49 per person. The restaurant is open to the public as well as overnight guests, but you'll need a reservation. They have a special rule for weekend overnight guests: you are required to make a dinner reservation on one of the weekend nights you stay at the BnB, be it Saturday or Friday night.
31970 East Ocean Lane. Arch Cape, Oregon. 800.436.2848. www.archcapeinn.com
More About Cannon Beach Dining.....
More About Cannon Beach Lodging.....
| | | |
| --- | --- | --- |
| | | |
LATEST OREGON COAST NEWS STORIES