Covering 180 miles of Oregon coast travel: Astoria, Seaside, Cannon Beach, Manzanita, Nehalem, Wheeler, Rockaway, Garibaldi, Tillamook, Oceanside, Pacific City, Lincoln City, Depoe Bay, Newport, Wadport, Yachats & Florence.
05/21/07
Aquarium on North Oregon Coast One of Oldest in U.S., Celebrates Anniversary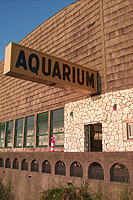 (Seaside, Oregon) – It's been 70 years of barking, comical, cavorting seals, scary octopuses, lots of mysterious looking marine life, and ooh's and ah's from generations of kids.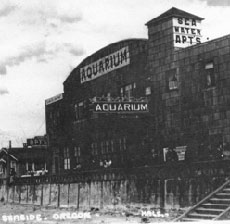 On May 25, the Seaside Aquarium, one of the oldest privately owned aquariums in the world – and the first to breed harbor seals - will be celebrating its 70th anniversary.
To mark this historic moment, the north Oregon coast landmark will revert to its 1937 admission rates: 15 cents per adult, 10 cents per child. The celebration happens 9 a.m. to 5 p.m. It's also asking the public contribute their stories and photos to the celebration..
Spend the day with the staff of the aquarium and enjoy the special historic displays and refreshments. There will also be some giveaways, which include a chance to win a behind-the-scenes tour of the historic aquarium building. That tour will include the upstairs area, which was until the 70's an apartment building - now a rather spooky, atmospheric treasure trove of old fixtures and remnants of times long gone.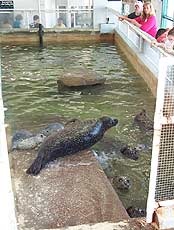 Seals entertain at the aquarium
"Bring your camera and take part in special photographic opportunities only available at this event," says general manager Keith Chandler. "We've dug up dozens and dozens of interesting photos and objects from the aquarium's past 70 years. But we're also asking the public to provide us with more."
DIVE INTO LUXURY, HISTORY AT THE TIDES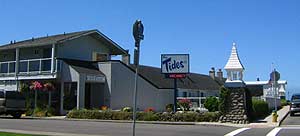 THE TIDES BY THE SEA, Seaside. For over 80 years a favorite of Seaside visitors. 51 oceanfront condos, individually owned and decorated. Suites for couples, small apartments with fireplaces and kitchenettes, one or two bed family units with fireplaces, kitchens and dining rooms. Oceanview cottages sleep anywhere from two to eight, w/ two bedrooms, some with lofts, fireplaces and kitchens. Heated outdoor pool, enormous grounds w/ picnic tables - all at quiet southern end of Seaside. 2316 Beach Drive. 800-548-2846. www.thetidesbythesea.com.
Chandler said the public can join in the celebration by sending in photographs and stories of themselves and their family at the aquarium. The Seaside Aquarium will compile selected photographs and stories into a scrapbook to be displayed inside the aquarium. "We feel that our customers have just as much to do with the history of the aquarium as the aquarium itself," Chandler said.
You can e-mail your photographs and/or stories to the Seaside Aquarium at
aquarium@seasideaquarium.com.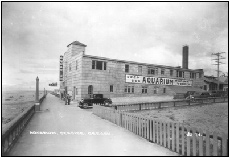 Seaside Aquarium around 1937
Or mail them to:
Seaside Aquarium
200 N. Prom
Seaside Oregon 97138
The Seaside Aquarium's most shining historic accomplishment is when Flipper, a speckled harbor seal, gave birth to a 19-pound pup in June of 1952. In January of 1964, the New York Aquarium claimed to have had the first harbor seal born in captivity, but this was retracted since the Seaside Aquarium had successfully bred 11 harbor seal pups by that date.
All of the seals you see now were born at the aquarium; some are fourth or fifth generation. It has not acquired seals from the outside world in generations.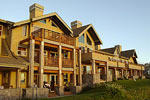 The Ocean Lodge. There will not be another property built like this in Cannon Beach in our lifetimes. Rare, premiere ocean front location; handsome, dramatic architecture and tasteful, fun (nostalgic) beach interiors. Overlooks Haystack Rock. 100 percent smoke free. Imaginative special occasion packages. Massive wood burning lobby fireplace. Library w/ fireplace, stocked with impressive book collection. Pet and family friendly. Lavish continental buffet breakfast. In-room fireplaces, mini-kitchens. Jacuzzi tubs in select rooms. DVD players, complimentary movies. Morning paper. Warm cookies. 888-777-4047. 503-436-2241. 2864 Pacific Street. Cannon Beach, Oregon. www.theoceanlodge.com
Currently the oldest seal is the 24-year old Drexler, named for the former Portland Trailblazer. He has fathered all the pups born in the last few years.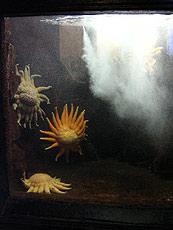 Clara, who passed away in 1978, was one of the oldest living harbor seals on record when she died at the ripe old age of 35. In the wild, harbor seals live for about 15 to 18 years. The vast majority of the seals in captivity at the aquarium have lived longer than their counterparts in the wild.
The Seaside Aquarium holds a couple other distinctions. It is the oldest privately owned aquarium on the west coast of the United States. It is also the only aquarium located on the beach.
The famed facility was actually a natatorium in the 20's, until the Depression killed its economic feasibility in the early 30's. There were two of these in Seaside at the time, and they were all the rage in the early part of the century, especially on the Oregon coast. A natatorium was a warm, saltwater public bath, with water pumped in from the sea through a pipe (still visible today at the tide line) and then heated. Around the walls were balconies so people could watch others swim in the pool below. For a time, the place served as a salmon rearing facility, and then a venue to watch wrestling matches.
Weiss' Paradise Suites & Vacation Rentals - Seaside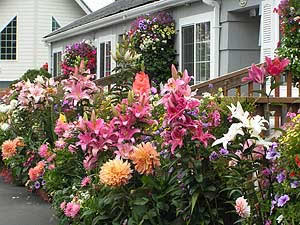 Unique Luxury Accommodations in Seaside. 1BR Suites, 1BR & 2BR Duplex Units and 3BR Houses, units for 2-8 people. Rent entire property for 20-26. Close to beach, river and Broadway St.
Suites are designed for two adults; vacation rental units for families. All units have kitchen and many have fireplace, deck and jetted tub. Comfy robes, slippers, luxury bath amenities, quality linens and more. 741 S. Downing St., Seaside. 800-738-6691. www.SeasideSuites.com
There was another famous natatorium at Bayocean in the 1910's, about 60 miles to the south, on the spit that now encompasses Tillamook Bay. That one was larger and had room for a band to entertain swimmers. It, like much of Bayocean, fell into the sea during heavy storms and massive erosion in later years – after the resort was abandoned because of hard economic times.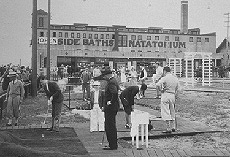 Seaside's mayor plays golf near the natatorium in the 20's
Finally, in 1937, the Seaside Aquarium made its debut, which makes it one of the oldest in the entire nation. An extensive remodeling took it from its former lives to the aquarium it is now, with many more revamps happening over the 70 years - and still happening today.
At the time, George and Greta Smith ran and managed the aquarium in its early years and were solely responsible for the aquarium's success. The aquarium was built over the old swimming pool, and part of that pool system still exists today. The seal tank is in the same area that the children's pool was located, although it has been extensively modified over the many years.
In the old days of the natatorium, there was a fountain at the shallow end of the swimming pool. This was an area where people could rest with their feet in the water and have warm salt water spraying over them. When the natatorium was converted into the aquarium, this fountain was made into a gigantic fish tank.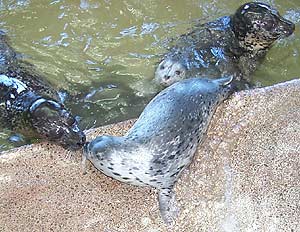 Seals frolicking at the aquarium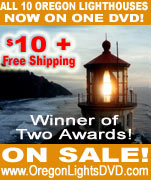 Presently, the aquarium calls this display the hex tank, because it has six windows. The center column of the aquarium's main tank area - with the small rocks covering it - is built around the old pipe that was used for the fountain. The round base of the hex tank is where people sat while water sprayed up and over their heads.
In 1938, owners of the aquarium created 12 apartments on the top floor of the facility, calling it the Sea Water Apartments. Aquarium staff says they still have people show up who used to live in the apartments. The Sea Water Apartments closed about 1970, but parts of it appear frozen in time.

Tradewinds Motel, Rockaway Beach. All rooms are immaculate and have TV's, VCR's and in-room phones w/ data ports. Oceanfronts have queen bed, a double hide-a-bed, kitchen, cozy firelog fireplace and private deck. Both types sleep up to four people. Others are appointed for a two-person romantic getaway, yet still perfect for those on a budget. Elaborate oceanfront Jacuzzi suite has two bedrooms, kitchen, double hide-a-bed, fireplace and private deck, sleeping as many as six. For family reunions or large gatherings such as weddings, some rooms can connect to create two-room and three-room suites. Some rooms pet friendly. 523 N. Pacific St., Rockaway Beach. (503) 355-2112 - 1-800-824-0938. www.tradewinds-motel.com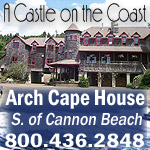 Over the years, the apartment windows were closed up, covered over by walls and hidden. Several years ago, the aquarium reinstated the old windows in the front of the building, tearing away the siding that once covered them, and returning a sense of history to the facility.
Just in time for the historical celebration, the aquarium has rebuilt the windows on the north side of the building as well.
Chandler said when first began working the aquarium in 1980 he had no idea it had been around that long. The owners over time clued him into the extensive history and he found himself becoming a bit of an historian.
For those lucky enough to get the tour, in the back it's a labyrinth of wooden structures, walkways above you, corridors of tanks and other functional equipment. All around are ancient keepsakes of the aquarium's history, many of them quite amusing in their cultural naiveté. One highlight is a sign about famed Clara the seal, who had a disfigured eye. The sign states she was in no pain, and that one of her favorite tricks was to put her flippers to her mouth, showing tourists she wanted to be fed.
At one point, you'll get lead to a stairway descending some ten feet into basement, with three giant holes in the ground, filled with rocks. This is the former deep end of the pool, and the holes are the filters for the seawater that feeds into the tanks. Each hole spills into another, until water is finally pumped from the bottom of the third filter. Without that, the water would be too murky for the public to see into the tanks.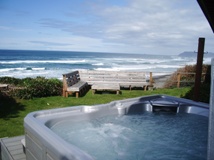 Arch Cape Property Services. Dozens of homes in that dreamy, rugged stretch between Cannon Beach and Manzanita known as Arch Cape. Oceanfront and ocean view , or just a short walk from the sea.
All homes are immaculate and smoke free; some pet friendly (with a fee). Some with broadband, indoor or outdoor hot tubs, fireplaces, decks, and fire pits or barbecues. Call about tempting winter specials that go until March (not valid holidays, however). www.archcaperentals.com 866-436-1607.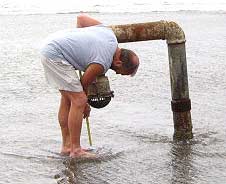 Chandler checks the pipe at the tideline - once a part of the natatorium, now the lifeblood of the aquarium
That pipe is still used to bring water into the aquarium, lying six to 20 feet under the sand, depending on its location. Regular visitors to the area will notice it occasionally changes shape out on the tide line. This is because sands shift and they need to periodically reconfigure it to keep it from being smothered.
In the engaging apartment area above, the lucky tour winner will find old-style sinks, bathtubs and Murphy beds dating as far back as the 30's. It's just like taking a trip back in time.
The Seaside Aquarium has been a part of the Marine Mammal Stranding Network since 1995, assisting north coast officials in rescuing beached animals or fish in distress, aiding scientific research on stranded marine creatures, and helping to make sure the public stays away from seal pups resting on the beach. This role has, in recent years, garnered the aquarium and Seaside some national and international publicity, with media from as far away as Japan and Africa interviewing them about some of their unique finds.
Seaside Aquarium is located on the Promenade in Seaside. (503) 738-6211. www.seasideaquarium.com

D Sands Condominium Motel, Lincoln City. Free, fresh baked cookie upon check-in is just the start. All rooms beachfront and up against Lincoln City's most famous stretch of beach: the D River. Each room comes as a suite or mini-suite, and has a kitchen and balcony or patio. Some w/ gas fireplaces, while all have a DVD Players; movies to rent come with free popcorn. Heated indoor pool, a spa, and this fabulous beach is lit at night. Rooms sleep from two, four to six - including a deluxe fireplace suite. Gift certificates orspecial occasion packages. www.dsandsmotel.com. 171 S.W. Highway 101. 800-527-3925.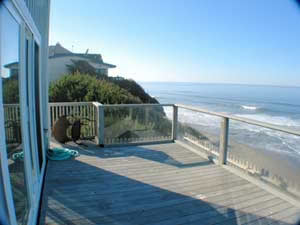 Lincoln City Vacation Homes Something for everyone: smaller homes with a view to a large house that sleeps 15. All are either oceanfront or just a few steps away – all with a low bank access and fantastic views. Most are in the Nelscott area; one is close to the casino. You'll find a variety of goodies: fireplaces, multiple bedrooms, dishwashers, Jacuzzis, washer/dryers, hot tubs, cable TV, VCR, barbecues; there's a loft in one, and another sprawling home has two apartments. Pets allowed in some homes – ask first. Each comes with complete kitchens. Most have seventh night free. Prices range from winter $85 to summer $230 per night. www.getaway2thecoast.com. 541-994-8778.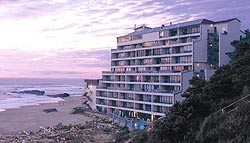 Inn At Spanish Head, Lincoln City. Lincoln City's only resort hotel built right on the beach with all oceanfront rooms - nestled against a rugged cliffside overlooking a soft, sandy beach. Dine in penthouse restaurant and bar, for casual meal or candlelight dinner. An array of seafood specialties, juicy steaks and other Northwest favorites, including decadent Sunday buffet. Rooms range from bedrooms to studios to 1-bedroom suites with microwaves and refrigerators to full kitchens. Also, wi-fi, spa, saunas, exercise room and year-round heated swimming pool. Kids will love the game room and easy beach access. Full-service conference/meeting rooms for that inspirational retreat; extensive wedding possibilities. 4009 SW Highway 101, Lincoln City. 1-800-452-8127 or 541-996-2161. www.spanishhead.com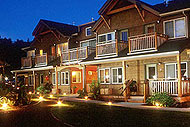 Inn at Cannon Beach. Beautifully wooded natural setting at quiet south end of Cannon Beach. Great during winter storms with a new book by the fireplace – or when the sun is out for family fun and beach strolling. Handsome beach cottage-style architecture. Lush flowering gardens and naturalized courtyard pond. Warm, inviting guest rooms. Continental buffet breakfast. Warm Cookies. Family and Pet Friendly. Welcome gifts. Smoke-free. Complimentary Wireless Connectivity. Wine and book signing events. 800-321-6304 or 503-436-9085. Hemlock At Surfcrest, Cannon Beach, Oregon. www.atcannonbeach.com.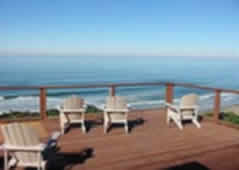 A1 Beach Rentals, Lincoln City. Perfect for large family vacations all the way down to a getaway lodging for two - with over 25 vacation rental homes to choose from. A breathtaking collection of craftsman or traditional beachfront homes, or oceanview houses – from one to seven bedrooms. In various areas of Lincoln City and overlooking the beach, with some in Depoe Bay. All kinds of amenities are available, like hot tubs, decks, BBQ, rock fireplaces, beamed ceilings and more. Some are new, some are historic charmers. Lincoln City, Oregon. 1-(503)-232-5984. www.a1beachrentals.com.
BREATHTAKING CLIFFTOP IN NEWPORT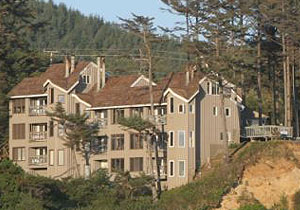 STARFISH POINT Newport - Offers only the finest in luxury condominium lodging. Every unit is focused on the beauty of the sea and the beach.
All units boast two bedrooms, two bathrooms, designer kitchens, wireless broadband Internet, fireplaces, Jacuzzi's and private decks. Friendly staff dedicated to high quality and superb customer service. 140 NW 48th Street, Newport. (541) 265-3751. (800) 870-7795. www.starfishpoint.com
RELATED STORIES
OREGON COAST VIRTUAL TOURS
Explore Every Beach Spot