Covering 180 miles of Oregon coast travel: Astoria, Seaside, Cannon Beach, Manzanita, Nehalem, Wheeler, Rockaway, Garibaldi, Tillamook, Oceanside, Pacific City, Lincoln City, Depoe Bay, Newport, Waldport, Yachats & Florence.
12/26/07
Interesting Beach Finds for Popular Holiday Week on Oregon Coast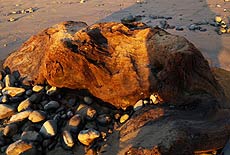 Ancient stumps at Hug Point popped up last year, which may be as much as 80,000 years old
(Oregon Coast) – The week between Christmas and New Year's Eve is a big one for the Oregon coast, as thousands are expected to hit the 362 miles between Brookings and the southern Washington coast. Renting a large vacation home for the family is extremely popular, as many spend much of the winter break there, all the way through the new year. Others will take advantage of the vacation days to line coastal bluffs and look for whales.
It's a time full of interesting sights on the beaches, as recent storms have brought a bevy of stuff onto the sand or changed the landscape in some way. There are also numerous other delights that many aren't aware of, like the strange ghost forests of some beach spots, exceptional beachcombing and aspects to crabbing and shellfish.
Of course, the most popular is the Whale Watching Spoken Here week, with begins December 26 and runs until January 1.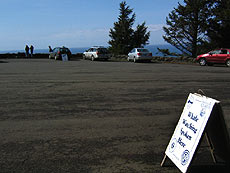 Whale Watch spot above Manzanita
During this week, from 10 a.m. to 1 p.m., volunteers will be stationed at overlooks and parks all over the Oregon coast, helping the public learn about gray whales, and spot them in the ocean. Volunteers will be at the Whale Watch Center in Depoe Bay from 10 a.m. to 4 p.m.

This time around could be an especially engaging one, as officials say whale sightings have been running at record levels all year. Morris Grover, with the Whale Watch Center in Depoe Bay, said the rush is already on, with whales well on their way during their southbound migration.
In a press release, Grover said sightings of whales have been smokin' all year long, and it could mean a bonanza of whales and their tails for tourists to the Oregon coastline.
"Weather always plays a part in determining how many whales are seen," Grover said. "Otherwise, I see no reason why our counts shouldn't follow this year's trend. The number of sightings recorded last spring was the highest it has been in more than 10 years. We also had a very good summer for whale watching on the central coast."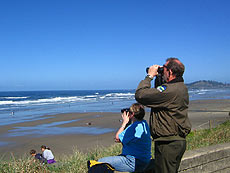 Morris Grover, head of the Whale Watch Center in Depoe Bay, searches for whales at Newport's Nye Beach area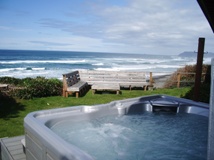 Arch Cape Property Services. Dozens of homes in that dreamy, rugged stretch between Cannon Beach and Manzanita known as Arch Cape. Oceanfront and ocean view , or just a short walk from the sea.
All homes are immaculate and smoke free; some pet friendly (with a fee). Some with broadband, indoor or outdoor hot tubs, fireplaces, decks, and fire pits or barbecues. Call about tempting winter specials that go until March (not valid holidays, however). www.archcaperentals.com 866-436-1607.
Weather can interfere with whale watching - not because they are annoyed or frightened by heavy surf, but because tall waves make it hard to see them.

"Rough weather presents a visual whale watching problem," Grover said. "A whale's back or tail usually would only be visible about three to six feet above the water line. A four- to eight-foot wave would make them 'invisible' to watchers looking across the waves. Even the whale's spout that could be as tall as 12 feet is usually blown sideways by the wind, making it only three to four feet tall. We have seen whales during storms, but that is usually when a swell pushes the whale up to where we can see it."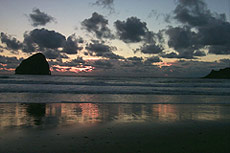 Harvesting of shellfish is now allowed north of Lincoln City, such as Pacific City (pictured here)
For those who want a little more hands-on experience mussels and crabbing will be just the thing – and good timing, too.
Snagging your own shellfish from north Oregon coast beaches is allowed again, after toxins caused the Oregon Department of Agriculture and the Oregon Department of Fish and Wildlife (ODFW) to ban harvesting from beaches of Lincoln City up to the Columbia River. Paralytic Shellfish Poisoning toxins levels were tested recently and found to be within safe limits in that more than 100 miles of coastline.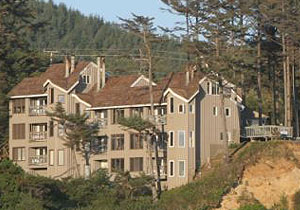 STARFISH POINT Newport - Offers only the finest in luxury condominium lodging. Every unit is focused on the beauty of the sea and the beach.
All units boast two bedrooms, two bathrooms, designer kitchens, wireless broadband Internet, fireplaces, Jacuzzi's and private decks. Friendly staff dedicated to high quality and superb customer service. 140 NW 48th Street, Newport. (541) 265-3751. (800) 870-7795. www.starfishpoint.com
That section had been closed to mussel-taking since October 15. This now means the entire coast is open to recreational harvesting by the public as well as commercially,
Call the state's Shellfish Hotline at (800) 448-2474.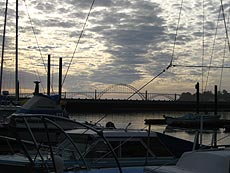 Newport's scenic bay
For crabbers, in spite of the often harsh weather this part of December can bring, this is an excellent time to snag crab. For those who want to purchase crab that's already been caught, the famed Oregon Dungeness crab is plentiful and fairly inexpensive now.
According to the ODFW, it is a delicious time to catch your own crab as well.
"Right now is the prime time for crabbing," said Brandon Ford, an ODFW spokesman in Newport. "It's the best conditions throughout winter and into the spring. The pre-season testing of ocean crab for the commercial fishery showed that crabs had hard shells and were full of meat. And crabbing in the bays and estuaries has improved in the last couple of weeks."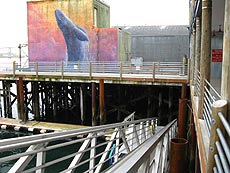 Newport's Yaquina Bay is one of the best places on the coast for crabbing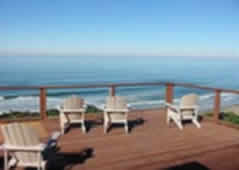 A1 Beach Rentals, Lincoln City. Perfect for large family vacations all the way down to a getaway lodging for two - with over 25 vacation rental homes to choose from. A breathtaking collection of craftsman or traditional beachfront homes, or oceanview houses – from one to seven bedrooms. In various areas of Lincoln City and overlooking the beach, with some in Depoe Bay. All kinds of amenities are available, like hot tubs, decks, BBQ, rock fireplaces, beamed ceilings and more. Some are new, some are historic charmers. Lincoln City, Oregon. 1-(503)-232-5984. www.a1beachrentals.com.
Ford said that crabmeat is typically at its best this time of year, as they are plump and full of meat after filling their new shells with body mass since the molting season that happened earlier this year.
Commercial crab season opened December 1, and this means that the ocean is open for crabbing to private citizens as well. There are, of course, a limited number of nice, calm days for this endeavor, but Ford said those hardy souls interested in this adventurous form of crabbing are growing in numbers – and they are often rewarded.
"When ocean conditions permit, anglers can combine crabbing and bottom fishing in one trip," Ford said. "I believe there are more people looking for those opportunities. The crabs are generally bigger in the deep ocean, although it is often a matter of luck, like any sport fishing."
You must have an annual shellfish license to go crabbing – the cost of which is $6.50 per person. See www.dfw.state.or.us/MRP/shellfish/crab/, or call ODFW's Newport office at 541-867-4741.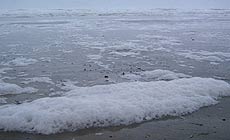 Big tides have cut into sand levels on the beaches
Recent storms are making for some spectacular beach finds. Some true oddities are beginning to manifest themselves on the sands, in terms of beachcombing and how the beach spots are changing their looks.

Tradewinds Motel, Rockaway Beach. All rooms are immaculate and have TV's, VCR's and in-room phones w/ data ports. Oceanfronts have queen bed, a double hide-a-bed, kitchen, cozy firelog fireplace and private deck. Both types sleep up to four people. Others are appointed for a two-person romantic getaway, yet still perfect for those on a budget. Elaborate oceanfront Jacuzzi suite has two bedrooms, kitchen, double hide-a-bed, fireplace and private deck, sleeping as many as six. For family reunions or large gatherings such as weddings, some rooms can connect to create two-room and three-room suites. Some rooms pet friendly. 523 N. Pacific St., Rockaway Beach. (503) 355-2112 - 1-800-824-0938. www.tradewinds-motel.com
"The beaches have been stripped of so much sand it has uncovered fossil rock and trees," said Judy Joubert, owner of Stonecrest B&B just south of Newport. Her area is chock full of freaky stuff starting to show up. "Great time for agate and rock hunting as well as viewing unusual beach and bluff erosion. The wild ocean, beach and bluffs are providing great opportunities for any amateur or professional photographer."
Newport beach expert Guy DiTorrice agreed.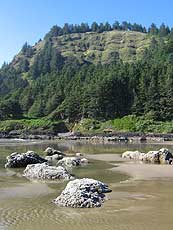 Beach erosion will make rocky objects like these - next to Cape Perpetua - be more visible
"There's been great sand movement along the central Oregon coast the last week," DiTorrice said. "The beaches are opening up with good gravel-cobble showing for agate, jasper, driftwood and fossils. South of Newport beaches are showing good rock, a wide color selection of agates and jaspers - and nice sizes - as well as some fossils."
DiTorrice said to look for this at the following beaches:
South of Lost Creek State Park
North of Seal Rock (the city)
North and South of Theil Creek (south of Newport Municipal Airport)
Coal Creek (north of Newport and north of Carmell Knoll)
North of Moolack Creek (north of Newport and south of Carmell Knoll)
He added there are dangers to look out for, beyond just the potential power of the ocean.
"Dirt path accesses can be very eroded and extremely slick, even when sunny," DiTorrice said. "Be very wary of tides and unexpected ocean swells coming onto the beaches. Be safe. Have fun. Enjoy winter break."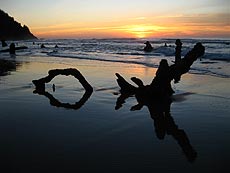 Ghost forest at Neskowin
In Cape Lookout State Park, the 1000-year-old remnants of what many call a "ghost forest" is practically a yearly occurrence, and these interesting nuggets of ancient nature just recently popped up again, said state geomorphologist Jonathon Allan. They are unearthed by storms, which erode the beaches and its sand.
"It's something that regularly re-exposes these," Allan said.
In Neskowin, the stumps are about 4,000 years old, according to Roger Hart, who works with Allan at the Newport office of the Oregon Department of Geology and Mineral Industries. These have been showing themselves all year, making for spectacular and surreal photographs. They look like the remnants of old man-made piers, but they are, in fact, leftovers of an ancient forest that was swallowed up by quickly rising sand and sea levels, killing them and yet preserving them in the prehistoric salt water.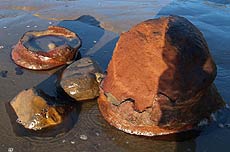 "Red Towers" made of sand cemented by iron are also found beneath the sand. These were uncovered briefly last year at Hug Point State Park
Last winter, sand levels were scoured to about six to ten feet below normal on the north coast, revealing ancient stumps at Hug Point that Seaside geologist Tom Horning said could be as old as 80,000 years old – although it's likely they're around 4,000 years old as well.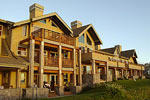 The Ocean Lodge. There will not be another property built like this in Cannon Beach in our lifetimes. Rare, premiere ocean front location; handsome, dramatic architecture and tasteful, fun (nostalgic) beach interiors. Overlooks Haystack Rock. 100 percent smoke free. Imaginative special occasion packages. Massive wood burning lobby fireplace. Library w/ fireplace, stocked with impressive book collection. Pet and family friendly. Lavish continental buffet breakfast. In-room fireplaces, mini-kitchens. Jacuzzi tubs in select rooms. DVD players, complimentary movies. Morning paper. Warm cookies. 888-777-4047. 503-436-2241. 2864 Pacific Street. Cannon Beach, Oregon. www.theoceanlodge.com
Tiffany Boothe, with the aquarium, said erosion has really cut into some of the dunes on the side facing the sea. "You can see the blades of grass beneath the top layer of sand," she said.
It was Boothe and aquarium manager Keith Chandler who earlier this month made the most startling and dramatic discovery that came from the big storm, with a ten-mile stretch of sand covered in ocean debris both living and not. The beaches between Gearhart and Warrenton are literally littered with various types of marine life.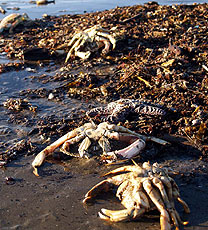 Your beachcombing may uncover incidents like this: called "ocean burps." Storms churn up large amounts of sundry objects and dump them onto the beaches - like this mixture of debris and crabs
Boothe said this open tract of sandy beach is usually barren, with the exception of logs, seaweed, and small shells. But for a while it was crawling with life.
Members of the Seaside Aquarium found a stranded giant turtle just before Christmas, likely tossed up by high surf and stormy conditions. It was still alive.
The high tides of the last few days and more such stormy conditions are expected to accelerate the process of erosion on Oregon beaches and toss more interesting goo and creatures.
"Just keep looking at what you find lying around the sand," Chandler said. "You'll find some real cool stuff – some of it may be alive."


D Sands Condominium Motel, Lincoln City. Free, fresh baked cookie upon check-in is just the start. All rooms beachfront and up against Lincoln City's most famous stretch of beach: the D River. Each room comes as a suite or mini-suite, and has a kitchen and balcony or patio. Some w/ gas fireplaces, while all have a DVD Players; movies to rent come with free popcorn. Heated indoor pool, a spa, and this fabulous beach is lit at night. Rooms sleep from two, four to six - including a deluxe fireplace suite. Gift certificates orspecial occasion packages. www.dsandsmotel.com. 171 S.W. Highway 101. 800-527-3925.
Weiss' Paradise Suites & Vacation Rentals - Seaside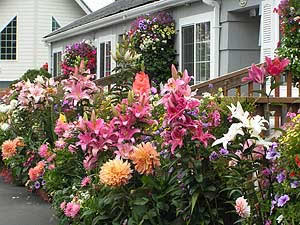 Unique Luxury Accommodations in Seaside. 1BR Suites, 1BR & 2BR Duplex Units and 3BR Houses, units for 2-8 people. Rent entire property for 20-26. Close to beach, river and Broadway St.
Suites are designed for two adults; vacation rental units for families. All units have kitchen and many have fireplace, deck and jetted tub. Comfy robes, slippers, luxury bath amenities, quality linens and more. 741 S. Downing St., Seaside. 800-738-6691. www.SeasideSuites.com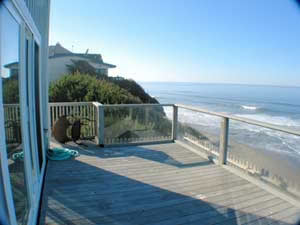 Lincoln City Vacation Homes Something for everyone: smaller homes with a view to a large house that sleeps 15. All are either oceanfront or just a few steps away – all with a low bank access and fantastic views. Most are in the Nelscott area; one is close to the casino. You'll find a variety of goodies: fireplaces, multiple bedrooms, dishwashers, Jacuzzis, washer/dryers, hot tubs, cable TV, VCR, barbecues; there's a loft in one, and another sprawling home has two apartments. Pets allowed in some homes – ask first. Each comes with complete kitchens. Most have seventh night free. Prices range from winter $85 to summer $230 per night. www.getaway2thecoast.com. 541-994-8778.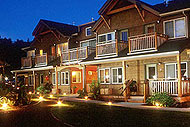 Inn at Cannon Beach. Beautifully wooded natural setting at quiet south end of Cannon Beach. Great during winter storms with a new book by the fireplace – or when the sun is out for family fun and beach strolling. Handsome beach cottage-style architecture. Lush flowering gardens and naturalized courtyard pond. Warm, inviting guest rooms. Continental buffet breakfast. Warm Cookies. Family and Pet Friendly. Welcome gifts. Smoke-free. Complimentary Wireless Connectivity. Wine and book signing events. 800-321-6304 or 503-436-9085. Hemlock At Surfcrest, Cannon Beach, Oregon. www.atcannonbeach.com.
RELATED STORIES
SPECIAL SECTIONS
oregon coast weather
oregon coast mileage chart & map
day trips, suggested itineraries
Oregon Coast Lodging Specials
Search BeachConnection.net's 1,000 pages
Oregon Coast Real Estate
Oregon Coast Pictures
Atypical Things to Do
Oregon Coast Camping
Seaside, Oregon Lodging
Cannon Beach, Oregon Lodging
Manzanita, Wheeler, Rockaway Beach Lodging
Lincoln City Lodging
Depoe Bay Lodging
Newport, Oregon Lodging
Cannon Beach Complete Guide
Lincoln City Complete Guide
Seaside, Oregon Complete Guide
OR TAKE THE VIRTUAL TOUR

ASTORIA
Where the Columbia meets the Pacific, Land of Lewis & Clark and loads of atmosphere & history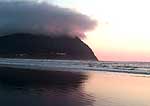 SEASIDE
The Promenade, Tillamook Head, family fun & broad, sandy beaches

CANNON BEACH
A mysterious lighthouse, upscale yet earthy, a huge monolith, fine eateries & an art mecca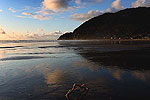 NEHALEM BAY
Manzanita's beaches, Nehalem and Wheeler's quirky beauty; laid back Rockaway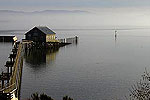 TILLAMOOK BAY
Garibaldi, Barview, Bay City, Tillamook & an oceanfront ghost town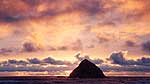 THREE CAPES LOOP
The hidden secret of the coast: Cape Meares, a lighthouse, Oceanside, Netarts and Pacific City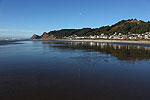 LINCOLN CITY
& THE CORRIDOR OF MYSTERY
Miles & miles of unbroken beaches, Cascade Head, Neskowin and many manmade attractions

DEPOE BAY
A spouting horn downtown, freaky hidden cliffs and whales, whales, whales

NEWPORT
Time-tripping Nye Beach, a bustling bayfront, marine science-central and two lighthouses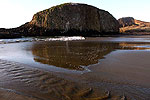 WALDPORT / SEAL ROCK
Pristine, even secretive sands and wild geologic landmarks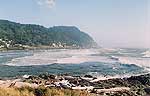 YACHATS
Constantly dramatic wave action, a mix of the rugged & upscale

UPPER LANE COUNTY
25 miles of deserted beaches & oodles of wonders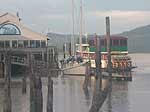 FLORENCE
A lighthouse, ancient bayfront and miles and miles of fluffy dunes